Dentistry tools have evolved today, there is no doubt about that. That is why a lot of dental patients have plenty of reasons now to visit their dentists despite dental anxiety's that may exist. Of course, advanced dental technology is about convenience and easiness.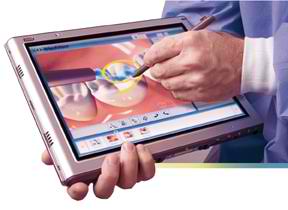 Advanced dental technology plays an important role to us. The tools it provides help deliver effective care to patients. One tool offered is the interactive patient education system.
Interactive patient education systems feature the latest and most innovative dental treatment information which you can view in your dentist's clinic. The information displayed on screen gives you idea how to improve your oral health. You will also learn the consequences if you do not take care of your dental problems early.

Anxious patients can also make the most of this technology. Since it lets you understand your dental treatment, how it is performed and the ways to keep your oral health in great condition, thus your anxiety is lessened.
A lot of individuals think that these systems are complicated. Well, they are not. This dental technology is about showing videos that can help you understand the treatment you will get. It comes in a DVD format and is played on your dentist's small monitor or viewed at your chair side. Some dental clinics also choose to show the videos in the reception area which helps the waiting patients learn the different types of dental services offered. Quite simply, this dental technology is an educational tool both to patients and dentists.
At present, there are hundreds or thousands of dental clinics offering interactive patient education systems. Each of them provides different features, but all comes with one purpose. And that is to educate dental patients.
They feature 3D graphics and highly animated videos and photos. Some of the dental treatments shown are about dental crowns, dental bridges, dentures and the dental professionals behind those treatments. Furthermore, the videos present details and information about pediatric dentists and their vital roles to kids and toddlers. Dental treatments depicted on these will help people learn what methods are used, their importance and why or when they are needed.
Unlike in the past, patients no longer need to rely completely on dentists. Since interactive patient education systems provide educational information about dental care and oral health, there's no more reason to avoid your dental appointments. Nevertheless, don't think this system is a complete substitution to seeing your dentist. Hence, ensure to see them frequently to avoid any dental problems, like an emergency wisdom tooth extraction.
If you want to learn more about your oral health, your dental problem and dental treatments, interactive patient education systems can be of help.